Students from Gibbs High School in St. Petersburg and across the Bay area and the state staged walkouts from class today to protest the Parental Rights in Education bill (HB 1557), better known as the "Don't Say Gay" bill.
---
What You Need To Know
The controversial legislation seeks to restrict classroom discussion "about sexual orientation or gender identity" in primary schools


LGBTQ activists say the "Don't Say Gay" bill could completely limit any discussions on identity and the community's history


President Joe Biden has called the bill "hateful"
---
"We are gathered here today because the Senate is currently trying to pass a bill that would regulate the talk of the LGBTQ communities within the classroom," said Abbie Garretson, 17, the president of the Gay Straight Alliance (GSA) at Gibbs. "We as students are walking out today to say that we do not support an institution and a school system that does not support us."
Similar protests walkouts were held at Lennard High School in Ruskin, Lakewood High School in St. Petersburg, and at Palm Harbor University High School (where there were reports of counter protesters).
In the Orlando area, there was also a protest walkout at Seminole High School Thursday in reaction to the passage of the "Don't Say Gay" bill. Hundreds of students reportedly gathered in the campus courtyard to show solidarity with the LGBTQ community.
The bill prohibits instruction on sexual orientation or gender identity in K-3 grades, "or in a manner that is not age-appropriate or developmentally appropriate for students."
Critics say the measure would prohibit conversations on LGBTQ issues in Florida public schools, but advocates say that it's simply a common-sense approach to empower parents.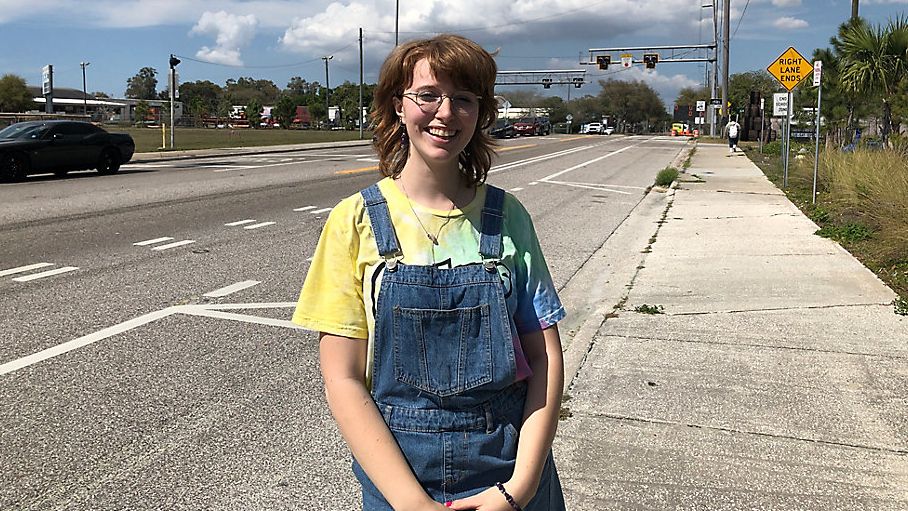 Abbie Garretson is president of the GSA at Gibbs and also the president of the National Arts Honors Society (Mitch Perry/Spectrum News)
"It's about parents being in charge, and I'm trying to empower that, rather than them being socialized by the school system," said Ocala Republican Dennis Baxley, the Senate bill sponsor, earlier this week.
Though the bill has mostly moved through the Legislature along party lines in the majority GOP-led Legislature, seven House Republicans did vote against the measure last week (and one House Democrat, James Bush III, voted for it).
St. Petersburg-based Republican Senator Jeff Brandes attempted to soften the legislation earlier this week in the Senate Appropriations Committee, filing an amendment that would change the language on banning instruction of "sexual orientation or gender identity" in K-third grade classrooms with "human sexuality or sexual activity."
The amendment failed to pass.
Tampa House Democrat Susan Valdes told Spectrum Bay News 9 last week that she was "cautiously afraid" of the proposed legislation, saying that she was most concerned about its implementation.
A member of the Hillsborough County School Board for 14 years before being elected to the House in 2018, Valdes and other Democrats been extremely concerned last week about an amendment by Republican Rep. Joe Harding that would have made school officials responsible for informing a student's parents of their sexual orientation within six weeks. Harding later withdrew the amendment.
"It's still a bad bill, even with the amendment out," she added.
The measure is opposed by Floridians, according to a survey taken last month. A University of North Florida Public Opinion Research Lab poll of 685 registered Florida voters found 49% oppose the bill, with 40% supporting it.
The White House weighed in last month on the bill, with President Joe Biden calling it "hateful."
Though the measure bans instructions when it comes to sexual orientation and gender identity in public schools from kindergarten through the third grade, Garretson says that the proposal affects all LGBTQ students.
"I think that despite the age limit on the bill, we feel that it affects all students because it is spreading a message from the state of Florida, from the school board, that we view queerness and gender identities as promiscuous and inappropriate, um, and that kind of message affects all grade levels, not just the ones that are being denied that information," she told Spectrum Bay News after she left the school campus on Thursday.
The measure is expected to pass soon in the Legislature, and then go to Gov. Ron DeSantis' desk. DeSantis has not said if he will sign the bill, but has made remarks indicating that he will.