ST. PETERSBURG, Fla. — When you have no use for something anymore, like an old building, you try to sell or find a new and better use for it. Well, that's what an old warehouse owner in St Pete did.
---
What You Need To Know
Ateltier De Sosi is located on 6th Ave. S in St. Petersburg


Artists displaying their work at what was once a body shop



---
From the outside, it doesn't look like much more than a building with a silhouette of a woman's face on the side. Walking in to a wide-open space with chairs and tables, your eyes are immediately drawn up to the vintage vehicles sitting on a shelf.
Once operational, they are now pieces of art with so much history.
Bruce Allums is the owner of the Atelier De Sosi. Atelier, is a French word meaning "workshop or studio".
Spectrum Bay News 9's Katya Guillaume asked why, of all places, he would put the vehicles so high up. Allums responded, simply, "I needed places to put them so I decided to put them up there, and then I started building furniture."
He builds all the functional furniture in the space, "Like the shelves and the tables, I built those. I'm an industrial guy," he said, showing all the pieces of furniture he created.
Look closely in each room and small space and every painting and decor tells a different story.
Kara Voorhees Reynolds is a watercolorist with several pieces on display at the gallery.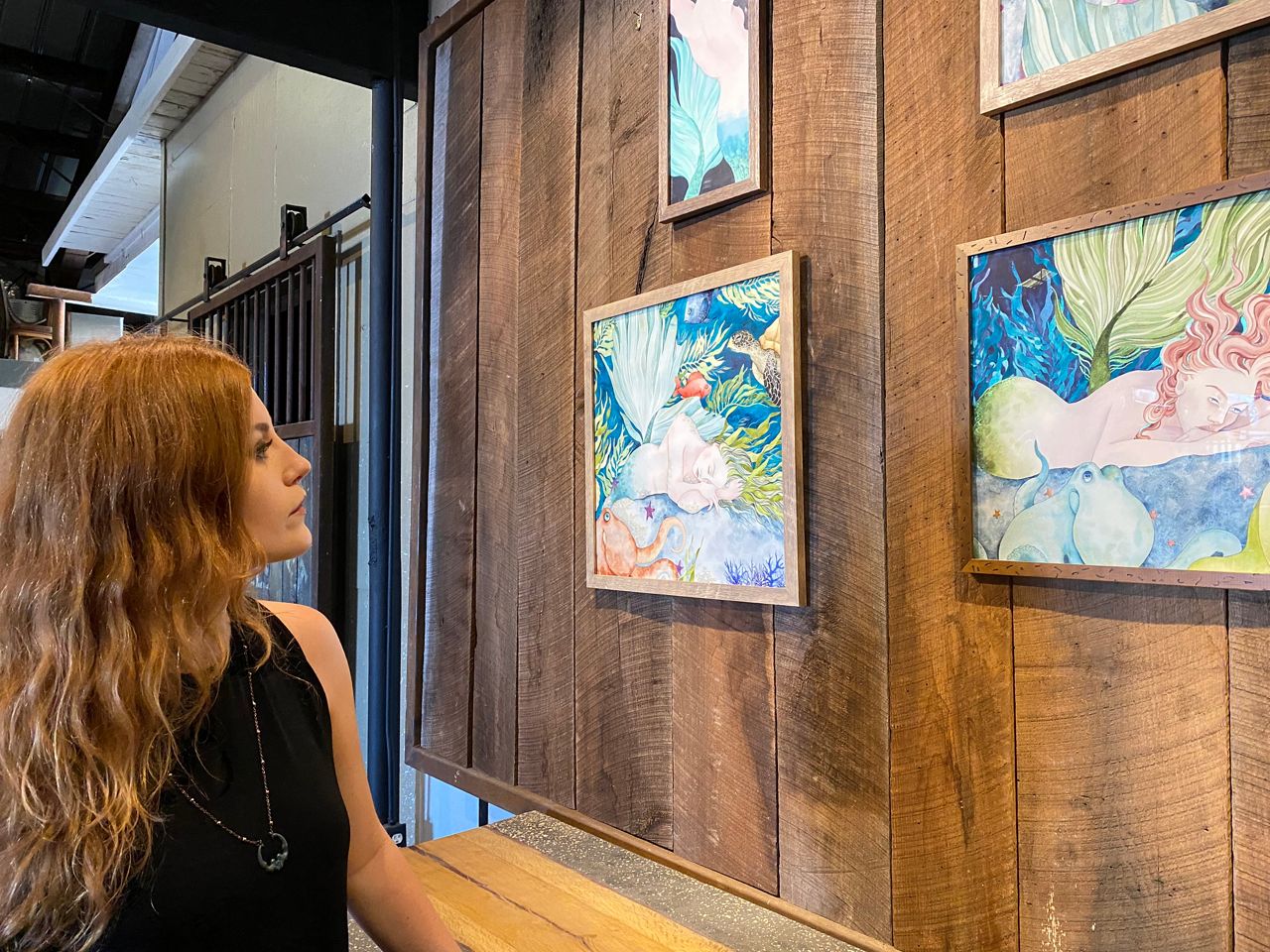 She said she has always been drawn to painting mermaids. "I was kind of inspired to create something about the rehabilitation of the reef and that's why she has barnacles on her and seaweed in her hair," she said.
Turning an old body shop into a workspace where artists can display their creativity, that's what Atelier in St. Pete is all about.
"You've got an artisan who's creating and building out of the gallery within it," conceptual pop painter Mark Mitchell said. "Using metal and woodwork just to make it a very unique environment when you walk through, and that just makes for a more engaging place to share my art."
Reynolds added, "I love walking into a brewery and seeing art on the wall, but this is just this tiny little epicenter of just nothing comparable to De Sosi."
From paintings by different artists to displays of eclectic and old items that many call art and unique, the creativity and inspiration when you walk into each room is endless, and to think the space was once a body shop.
Ateltier De Sosi is located on 6th Ave. S in St. Petersburg and holds several private and pop-up events.
You can visit them by clicking https://www.atelierdesosi.com