TAMPA, Fla. – President Joe Biden recently signed the Dept. of Defense Burn Pits Health Provider Training Act.
The legislation, co-authored by Tampa Bay Congressman Rep. Gus Bilirakis (R-FL), requires all DOD medical providers to receive training in the potential health impacts of burn pits.
"This is an important first step. It's always about education. It's always about awareness, and it's always about training. It's necessary, but it's not sufficient," said U.S. Army Col. (retired) DJ Reyes, who sits on Bilirakis's Veterans' Advisory Committee. "We've got a long way to go, and I can tell you right now as I speak, there are men and women who are currently suffering or dying or who have already died from diseases as a direct or indirect result of the toxic exposures in Iraq and Afghanistan."
According to the U.S. Dept. of Veterans Affairs, open air burning of trash in burn pits was common in Iraq, Afghanistan, and in other areas of southwest Asia. Reyes served in the military for 33 years and said his first burn pit exposure was in Haiti in 1994. He encountered them again in 2003 during Operation Iraqi Freedom.
"We burned all of our trash - chemicals, clothing, weapons, communications equipment, you name it," Reyes said. "As you can well imagine, when you're subjected to those fumes, day in and day out, and for someone like me and many others, we've had multiple tours back into the Iraqi theater of operations and the Afghan theater of operations — after awhile, it's going to take a toll on you."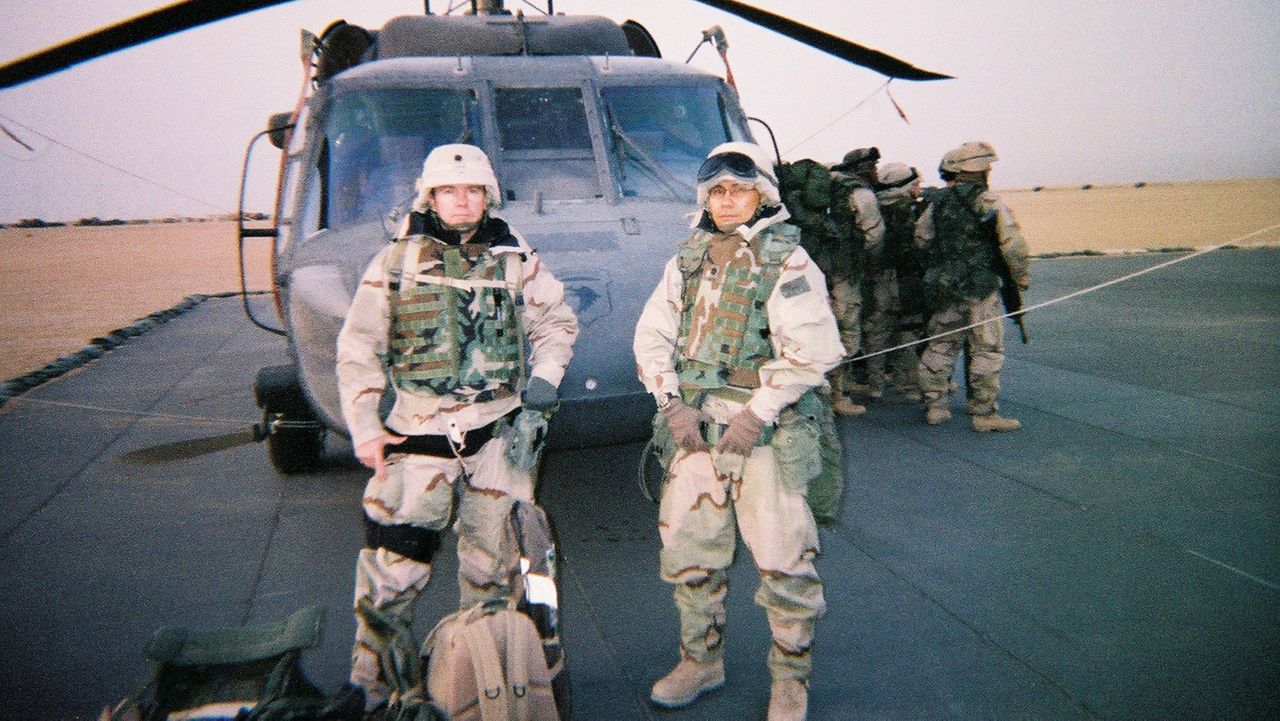 Retired U.S. Army Col. DJ Reyes (right) says he developed a series of upper respiratory issues after repeated exposure to burn pits in Iraq. (Courtesy: DJ Reyes)
The VA's web site says researchers, including VA experts, are studying burn pits to better understand potential long term health impacts. Advocates, including Bilirakis, have said they believe there is a link, and until it can be proven, veterans should get access to VA health care. A news release from Bilirakis's office states this new law can help detect and treat any potential conditions early. In August, the VA did list asthma, rhinitis, and sinusitis as presumptive conditions linked to burn pits.
Reyes said he developed a series of upper respiratory conditions following his exposure to burn pits. He said treatment was never a worry for him, since he has medical coverage under Tricare, a health care program for service members.
"So, I've been covered while the VA has been struggling with trying to determine how they're categorizing some of these illnesses and trying to attribute it to the burn pits, which they recently have," he said.
The VA has an Airborne Hazards and Open Burn Pit Registry. Any veteran who was exposed to burn pits, even those not experiencing health issues as a result, is encouraged to register to help the VA better understand long term impacts.