ST. PETERSBURG, Fla. — The new owners of the St. Petersburg house where iconic beat generation novelist and poet Jack Kerouac spent the last two years of his life recently opened it up to the public.
---
What You Need To Know
Tours and events are by reservation only at stpetekerouachouse.org


Jack Kerouac moved into the house with his third wife, Stella Sampas, in 1967


The house is located at 5169 10th Ave. N in the Disston Heights neighborhood


---
"We want people to come and enjoy it," said owner Gina Burchenal, 55. "It has been locked up for 30 years and everybody is just super excited."
Kerouac moved into the house located at 5169 10th Ave. N, with his third wife, Stella Sampas, in 1967. Some of the writer's most famous novels include "On The Road," "The Town and the City," and "Big Sur."
The king of the beatniks lived in the Disston Heights neighborhood house for about two years, before passing away in 1969 at the age of 47, from an internal hemorrhage caused by a lifetime of heavy drinking.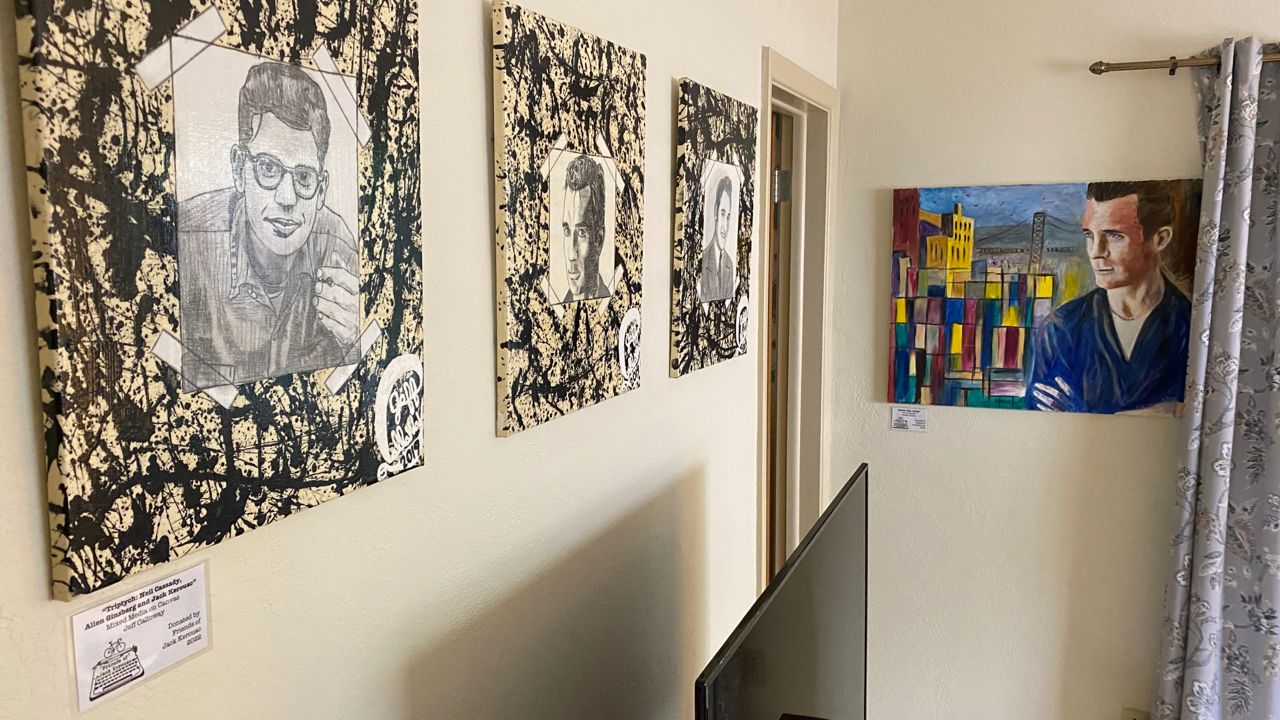 (Josh Rojas/Spectrum Bay News 9)
Burchenal and her husband, Ken, purchased the three bedroom house — which was built in 1963 — for $360,000 in November of 2020.
"One of our daughters sent us a link that Jack Kerouac's house in St. Petersburg was for sale," said Ken Burchenal, 62. "When I walked in, I was like, 'It's there.' We were sold. We were like, 'This is awesome.'"
Ken is originally from Clearwater Beach and lived in Odessa where his parents owned a citrus farm called Cee Bee's Citrus. He moved back to Florida in 2017 after his parents died and sold the farm.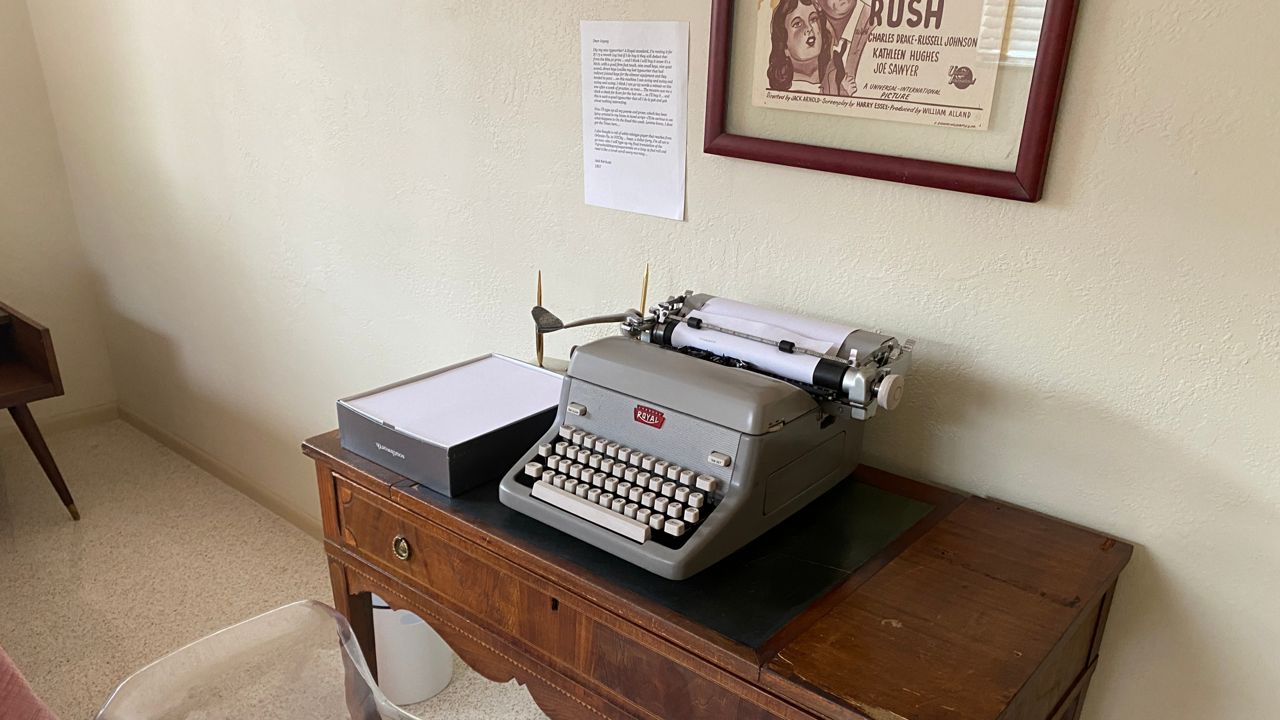 Ken said it was the last commercial citrus grow in that part of Hillsborough County. The couple was left with extra money to purchase the Kerouac house.
"My siblings and I had just sold the acreage to Hillsborough County for an environmental preserve and so Gina and I were flush," he said. "(We) didn't know what we were going to do with it but knew we could rent it to somebody."
The Burchenals' primary home is located in Largo. Ken is a retired professor of literature and the humanities who taught at the University of Texas in Austin.
"For close to 30 years, I would assign Kerouac's work," he said. "I was most interested in 20th Century American literature. Although, I taught many, many things."​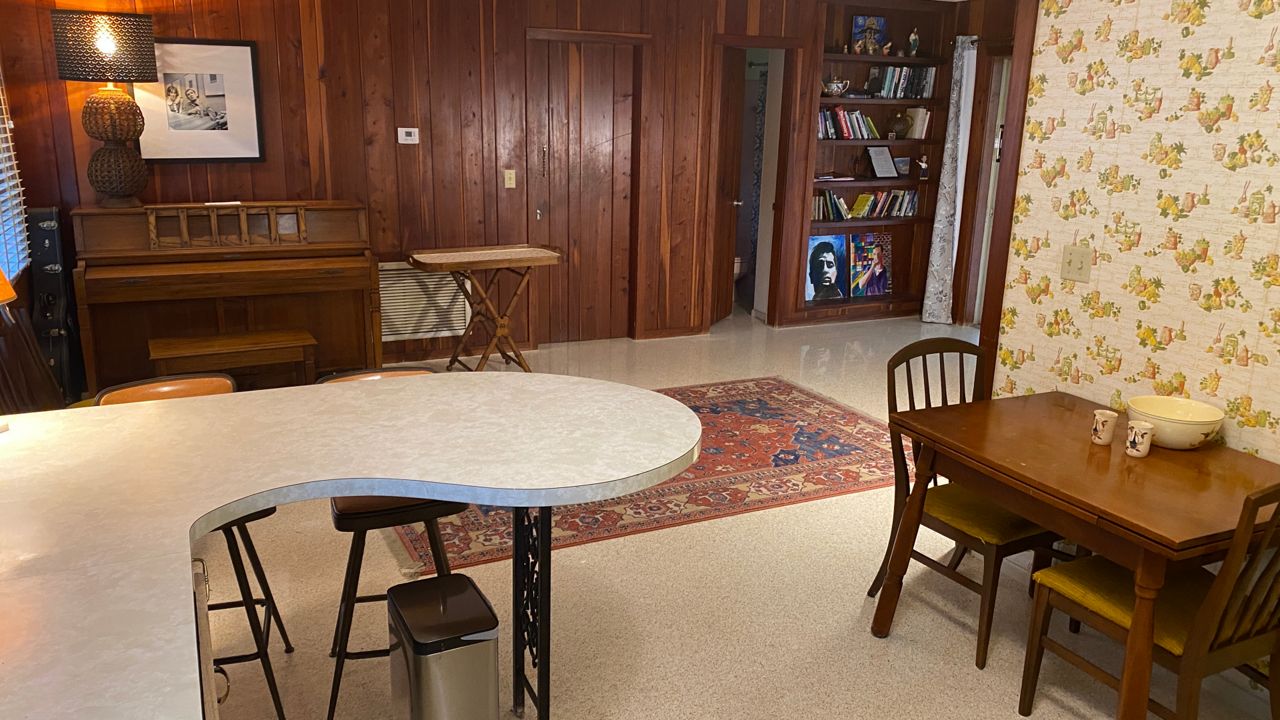 (Josh Rojas/Spectrum Bay News 9)
Kerouac's family took all the possessions from the house they thought were valuable after his death, but left behind many items like a rocking chair, kitchen cookware and books, according to Burchenal.
"Virtually, nothing has changed here since 1963," he said. "Kerouac had a real fondness for easy chairs and rocking chairs. This is another one of the few things that's in the house that he writes about in letters."
The Burchenals want the public to have access to the house and created the nonprofit Jack Kerouac House of St. Petersburg Inc. to facilitate reservation-only events.
"People can make donations, maybe they can come and stay here for awhile," said Ken. "We do streaming events. So, it can be like a studio. We've had rock stars come and make music here."
The Burchenals teamed up with Preserve the 'Burg to host a porch party on Nov. 3. Ken said it was the first public event they've hosted for another organization.
"We want to support other people who are also supporting the arts and culture in St. Petersburg," Ken said. "Really our burgeoning cultural renaissance and we just want to be part of that."
(Josh Rojas/Spectrum Bay News 9)
While the couple says the house feels like a museum, it can't get that designation because it's located in a residential neighborhood.
"We do have a historical designation," said Gina. "That will remain in perpetuity for the house and the city."
Gina said Kerouac fans still send letters and postcards to the house and reads one she found in March.
"I've have good news and I have bad news. The good news is heaven exists. The bad news is this is it," she said. "They leave notes and they leave letters for Jack and just their thoughts or poems."
The Burchenals say they are ready to welcome fans who are eager to go "on the road" themselves and visit the last place Kerouac called home.