ST. PETE, Fla. — A new mural honoring Black history now sits outside of the Woodson African American Museum in St. Pete.
The mural reads "Black History Matters" and spans a block of 9th Avenue South. The artwork replaces the previous mural designed in 2020 that read "Black Lives Matter."
Terri Lipsey Scott, the museum's Executive Director, said the former mural was aging from the weather and sun. Her team felt the message of "Black History Matters" was important and timely. They coordinated with a group of local artists and each artist designed and painted one letter, making the mural one-of-a-kind.
"I am so excited that here in St. Pete we can celebrate without there being any barriers or any concerns about what we believe in," Scott said.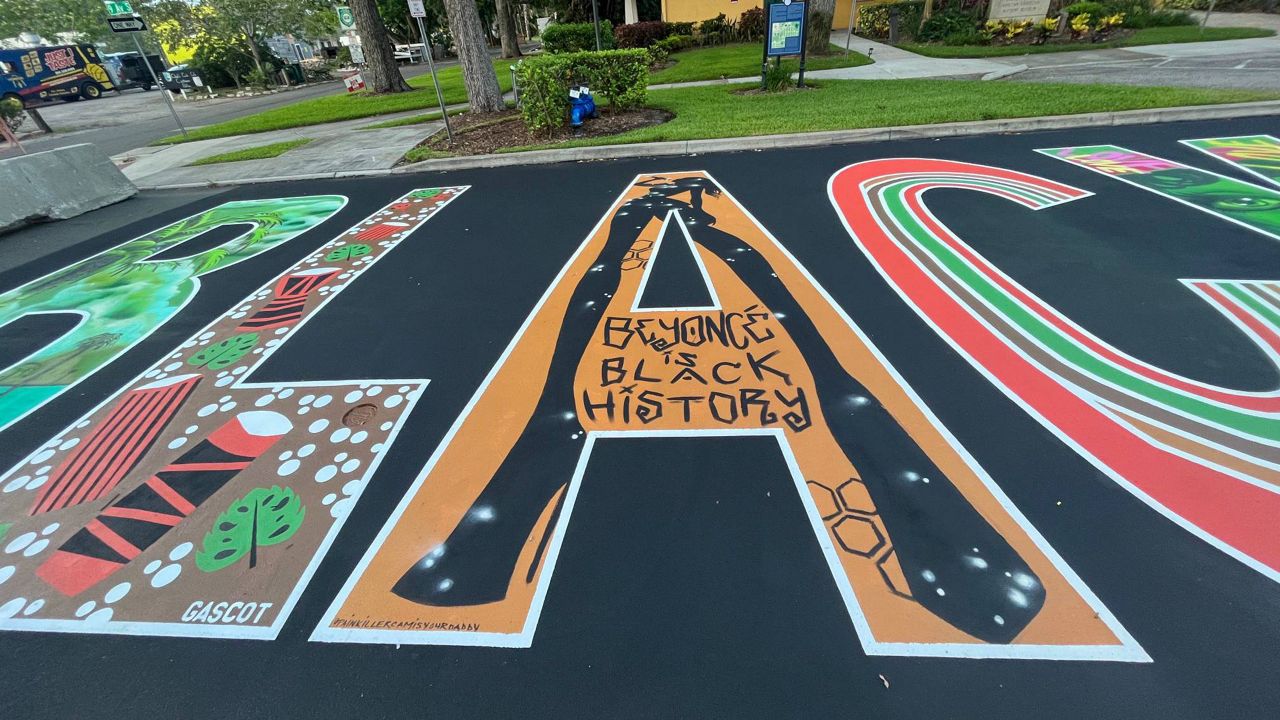 Black History Matters mural in front of the Woodson African American Museum. (Spectrum News/Angie Angers)
Museum officials revealed the mural for the community during a Juneteenth celebration Monday morning.
Attendees included St. Pete Mayor Ken Welch, U.S. Congresswoman Kathy Castor, Florida Sen. Darryl Rouson, Pinellas County Commissioner Rene Flowers, Pinellas County School Board Member Caprice Edmond, City Council Vice-Chair Deborah Figgs-Sanders, City Council Member Richie Floyd and Dr. Kanika Tomalin, among others.
Scott said the message of the new mural resonates with her.
"We decided that the 'Black History Matters' messaging matters now more than ever, in light of so many banned initiatives that have come forward," Scott said. "One of those initiatives was Black history itself. So we wanted to make certain that individuals knew and understood the significance and importance of Black history here in the city of St. Petersburg and beyond."
Black History Matters mural in front of the Woodson African American Museum. (Spectrum News/Angie Angers)
Featured artists include Daniel "R5" Barojas, Miss Crit (Laura Spencer), Esh (Eric Hornsby), Cyrus Fire, Raheem Fitzgerald, John Gascot, James E Hartzell, Vera Herrera, Plum Howlet, Jade Jackson, Reid Jenkins, Jujmo (Cheryl Weber), James Kitchens, Cam Parker, Reda3sb, Vitale Bros, Javon Walters, David Watson, Wayward Walls (Jason Harvin) and Catherine Weaver.
Catherine Weaver was one of 19 artists who each got a letter to pain.
"I end up getting the Y," she said. "So, I say the Y is why? Why did it take so long for us to get free? Why did it take so long for us to still have our rights? So, Y is still very significant."
On one side, she painted Juneteenth 1865. On the other side, she painted the Emancipation Proclamation.
WATCH: Spectrum Bay News 9's Josh Rojas reports
"That was where Abraham Lincoln actually signed that we were free. Free slaves, free African Americans and stuff. And Juneteenth is now a national holiday. 1865 is when they actually realized they were free," she said.
Weaver has been painting since she was a child and lives just a couple of blocks down the same street. She wants to ensure Black history is preserved and celebrated.
"If we do not tell our story it will get erased with us," she said. "When we pass away, if no one tells it, if it's nowhere to be found, then it's just gone forever. So, everybody needs to tell the story of their personal existence, their family history, everything."