The 2022 Atlantic hurricane season has back-to-back tough acts to follow when it comes to the amount of named storms.
The 2021 season was the third-most active on record with 21 named storms, and the second season in a row when all 21 names were used. 2021 was also the sixth straight year to see above-average tropical activity.
A storm is named when it achieves tropical storm status (winds of 39 mph or higher). It becomes a hurricane when winds reach 74 mph, but keeps the same name.
The World Meteorological Organization (WMO) creates the lists of names, and each list is cycled every six years. Each list contains 21 names, alternating between male and female names.
Before 1950, storms were noted by their latitude and longitude. This proved problematic when trying to relay information to the public.
It was confusing, so meteorologists streamlined this process using the phonetic alphabet to name the storms (Able, Baker, Charlie, etc.).
Starting in 1953, storms were given female names. Rumor has it that a member of the committee was angry at his wife and wanted to name a storm after her.
Whether or not that's true, the first named storm of the 1953 season was Alice. All-female names continued until 1979, when male names were added to alternate within the list.
Prior to 2021, after the 21 names were exhausted, the Greek alphabet was used. 2005 and 2020 were the only two seasons to feature the Greek alphabet.
However, this proved difficult for several reasons, including what would happen after a storm was so destructive the name should be retired, as was the case for Eta and Iota in 2020.
Additionally, coronavirus variants use Greek letters, adding to possible confusion.
To account for these issues, the WMO created a supplemental names list. This list featured another 21 names from A to W that alternates male and female names. This list will remain the same each year, only swapping out a name if it is retired.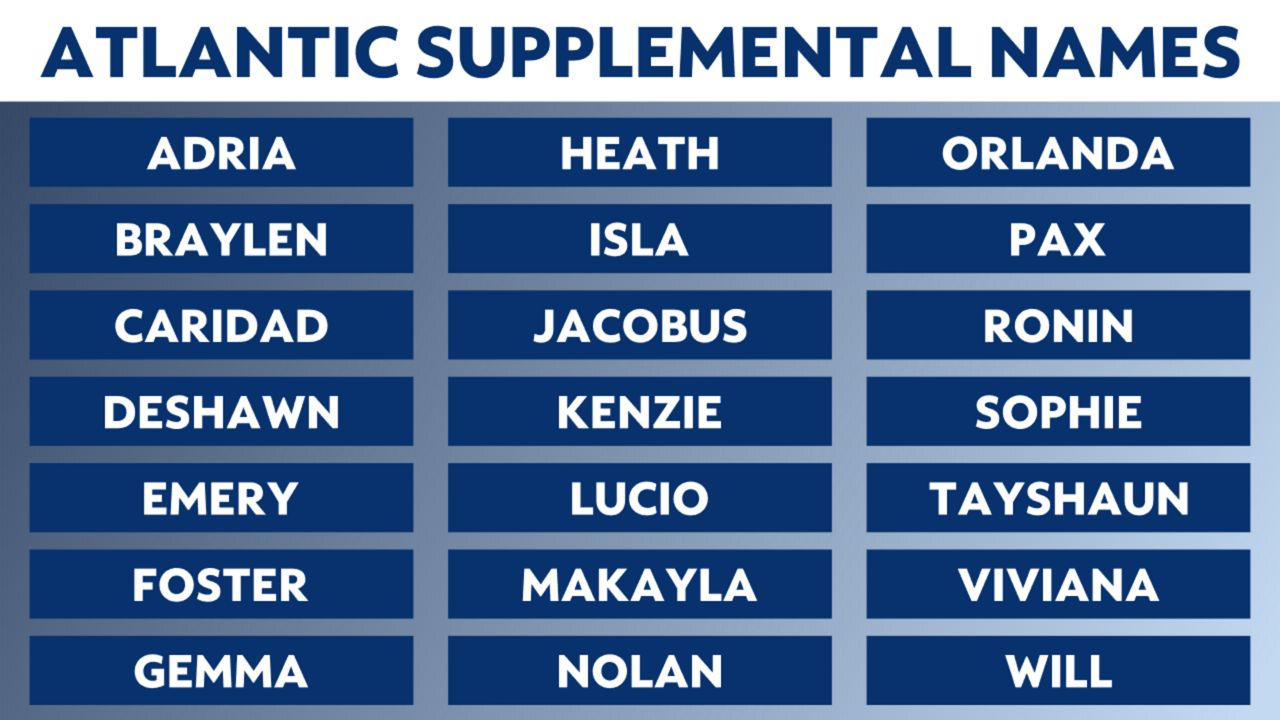 While the official season begins June 1, tropical activity can develop outside of this timeframe, so the National Hurricane Center will begin issuing regular Tropical Weather Outlooks on May 15, 2022.
Now is the time to reevaluate your hurricane prepardness kit. According to the Federal Emergency Managment Agency, your kit should include, at minimum:
Water: one gallon per person, per day (3-day supply for evacuation, 2-week supply for home).
Food: non-perishable, easy-to-prepare items (3-day supply for evacuation, 2-week supply for home).
Flashlight.
Battery-powered or hand-crank radio (NOAA Weather Radio, if possible).
Extra batteries.
First aid kit.
Medications (7-day supply) and medical items.
Multi-purpose tool, like a Swiss Army knife.
Sanitation and personal hygiene items.
Copies of personal documents (medication list and pertinent medical information, proof of address, deed/lease to home, passports, birth certificates, insurance policies).
Cellphone with charger.
Family and emergency contact information.
Extra cash (ATMs might be inoperable).
Extra fuel for generator and car.
Depending on your family's requirements, you may need to include medical care items, baby supplies, pet supplies and other things, such as extra car and house keys.
Additional supplies might include towels, plastic sheeting, duct tape, scissors and work gloves.