A trio of Pinellas County lawmakers and some additional environmental activists delivered signed petitions to the Clearwater district office of Florida Speaker of the House Chris Sprowls on Thursday, calling on him to block energy preemption bills that are moving through the Florida Legislature.
---
What You Need To Know
Multiple bills in Tallahassee would limit local governments' ability to enact clean energy plans


Local leaders calling on Florida Senate president to block them


---
"We should honor home rule," Clearwater City Council member Kathleen Beckman said. "If municipalities are taking steps to reduce pollution, to save residents money, to protect our health and our environment, we should be allowed to do that."
"The better tact to take would be to actually work with our local communities," added Dunedin Vice-Mayor Jeff Gow about the Legislature's efforts.
Gow cited several programs that his city has enacted to promote clean, renewable energy. Those include partnering with Duke Energy to install electric vehicle charging stations throughout the community and working with local residents and businesses on solar rebate programs.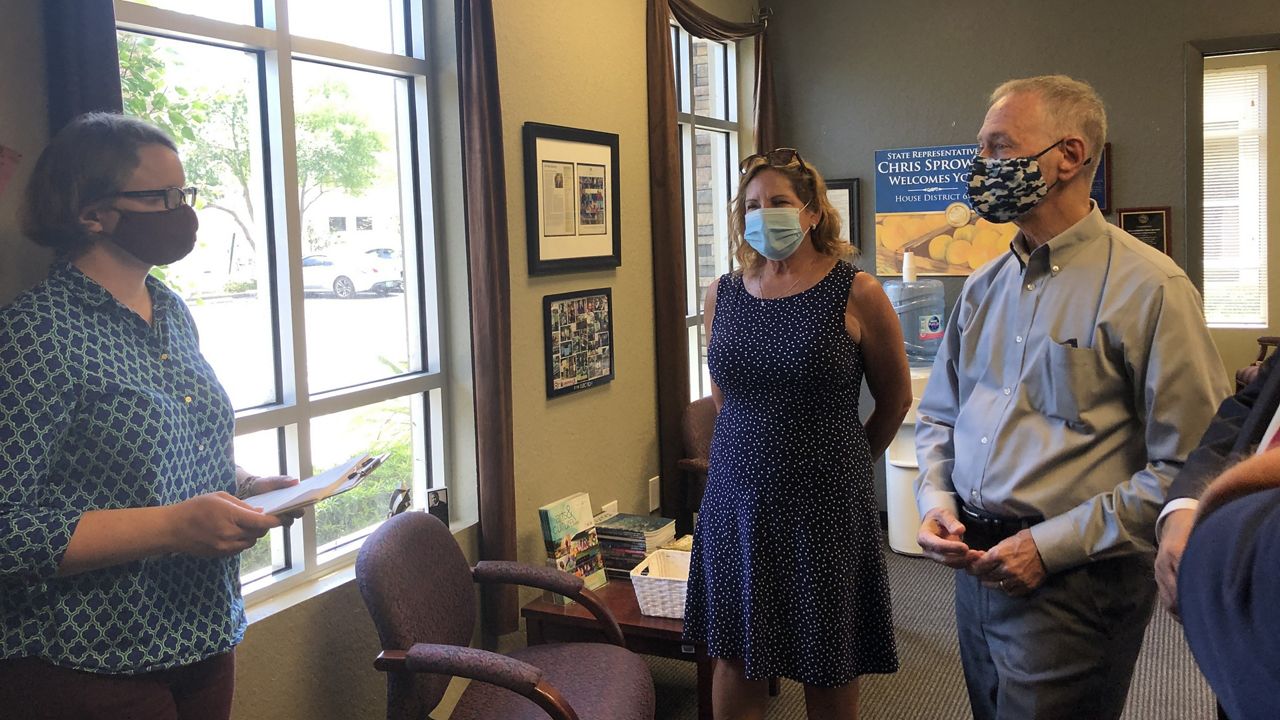 From left to right: Representative from Speaker of the House Chris Sprowls' office, Clearwater City Council Member Kathleen Beckman, and Largo City Commissioner Eric Gerard
Among the energy legislative measures sparking concern include a proposal (SB 1128) sponsored by Palm Coast Republican state Sen. Travis Hutson which would prevent local governments from banning natural gas as an energy source in new construction.
There's also a bill (SB 1008) that would limit local rules related to solar power installations and a proposal (SB 1236) to prohibit adopting and enforcing "certain" programs to regulate greenhouse gas emissions without specific state legislative authorization.
The bill that initially drew the most intense concern was a proposal by Hutson (SB 856) that, as originally drafted, would have prohibited local governments from enacting measures to transition to 100% clean energy within a certain timeframe.
Dunedin, Largo and St. Petersburg have all passed such resolutions in recent years.
The bill has since been amended, however. Currently it calls for the preemption of the regulation of transportation energy infrastructure to the state, such as gas stations.
Largo City Commissioner Eric Gerard said that there are times where it makes sense for the Legislature to enact uniform statewide rules, but preventing local governments from enacting clean energy policies isn't one of them.
"Cities all over the state are taking the initiative now in lieu of state action to be able to control this," Gerard said. "We need to make a move now."
The event was organized by advocates with Food & Water Watch and the Tampa Bay Climate Alliance, their second over the past week to call attention to the energy preemption bills.
Spectrum Bay News 9 reached out to Speaker Sprowls' office on Wednesday for comment but did not receive a response.
The regular legislative session is slated to end on April 30.