Nick Reale of Salt Creek Arts has been turning wood since 2012, finding the objects that live within.
---
What You Need To Know
Nick Reale and Shelly Steck Reale both picked for Florida CraftArt Festival


It's the third time for Nick


Across the warehouse, his next door artist neighbor - his wife - is sculpting her own story


---
It's his third time Florida CraftArt chose his work for their annual festival.
The wood Nick uses for these pieces--fallen trees—his workshop is filled with pieces that are native to Florida—most to Pinellas County.
There is a rocker that was one a tree on Granville Court in St. Pete. There are spoons, bangles and bowls with unique markings.
"All I use is local woods," Reale explained. "And I try to leave all the natural inclusions and shapes, if at all possible. I enjoy doing that because it represents the tree."
Even if a tree had a fungus, it's still usable - it actually makes different colors on the wood.
Reale uses gougers to carve on a lathe - the machine that spins the wood piece while the carver presses in the skinny metal tool with a soft point and a wooden handle.
"But they make really smooth cuts, which is like the opposite of a gouge, right," said Reale.
Across the warehouse - in another studio - Reale's next door artist neighbor is already sculpting her own story.
Shelly Steck Reale – you heard right – that is Nick's wife.
She's a ceramicist working on a series of angry children holding extinct animals.
"I think that art has a way of reaching people in and more on a gut level than than words do," said Steck-Reale.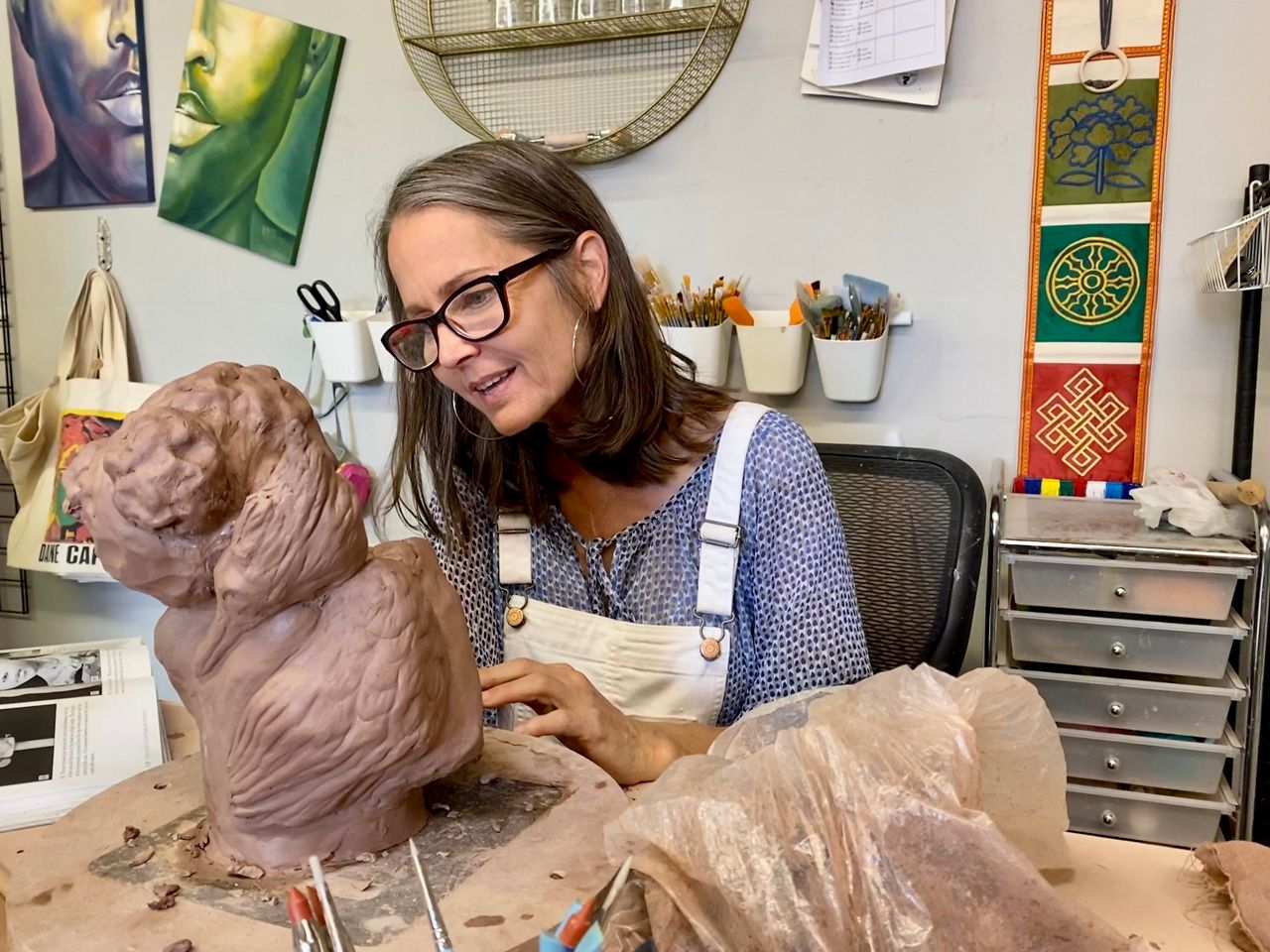 Chosen as this year's "Emerging Artist" for the Craft Art festival, Shelly says you have to see things from all perspectives when sculpting - it's like training for life.
Reale, meantime, is working on a bowl on his lathe.
"This is going to be a fruit bowl, and it's made from Florida Maple," he explained.
As the lathe spins the wood block, Reale pushed a gouge up against the wood. One can immediately understand his safety gear- ribbons of wood and little chunky curls shoot out where the gouger makes contact with the wood.
This is actually Nick's second career.
Before this, he spent 30 years as a Pinellas Park firefighter.
He says it was a great life, and this is too.
"You really can't express emotion or express an artistic emotion, which 20 years ago me would be laughing at today, me on the fire department with an eye roll and an "Oh my God,'" said Reale, laughing. "It opened up a whole new world for me of being able to not only express myself but get rid of all the demons that you pick up being in the fire department. And it's great. It's a wonderful, wonderful life."
The festival is from Nov. 20-21.