TALLAHASSEE, Fla. — The Florida Senate voted 22-17 Tuesday to pass the "Parental Rights in Education" bill.
Twelve new amendments were proposed to the bill on Monday in the Senate and all failed to pass.
---
What You Need To Know
Senate votes 22-17 to pass the "Parental Rights in Education" bill

Bill banning Critical Race Theory in public schools is still being debated
---
The "Parental Rights in Education Bill" has been dubbed the "Don't Say Gay" bill by opponents, because of language originally prohibiting any discussion about sexual orientation and gender identity in younger grades and in a manner that is not, quote, "age-appropriate or developmentally appropriate for students."
Two Republican senators — Jennifer Bradley of Orange City and Jeff Brandes of Pinellas County — voted against the legislation.
"I proposed an amendment that would have stopped any conversations surrounding sexual activity in our k-3 classrooms. While the intent of the bill was to curtail conversations about sexual orientation and gender identity, the impact of this language was clearly felt by various members of our community," Brandes said. "I could not support the bill given that other conversations about sexual activity could occur with children as young as 5."
Critics say this kind of ban could have negative impacts on LGBTQ students and their mental health, especially those who don't feel safe coming out at home.
Gov. Ron Desantis has signaled his support for the bill, saying he would likely sign the bill into law sometime this summer.
Some in LGBTQ community at odds with 'Don't Say Gay' bill
The bill has received unlikely support from some in the gay community.
"Many people that are commenting on it probably haven't taken the time to read it," said Ryan Terry, and adjunct professor of film, communications and media at the University of Tampa. "The bill is not discriminating against anybody. It's not oppressing anybody. It's serving as a framework for guided discussions in a public school classroom."
Terry said, not as a UT faculty member, but as a gay man supporting a bill he says is in line with what students are able to understand at various ages.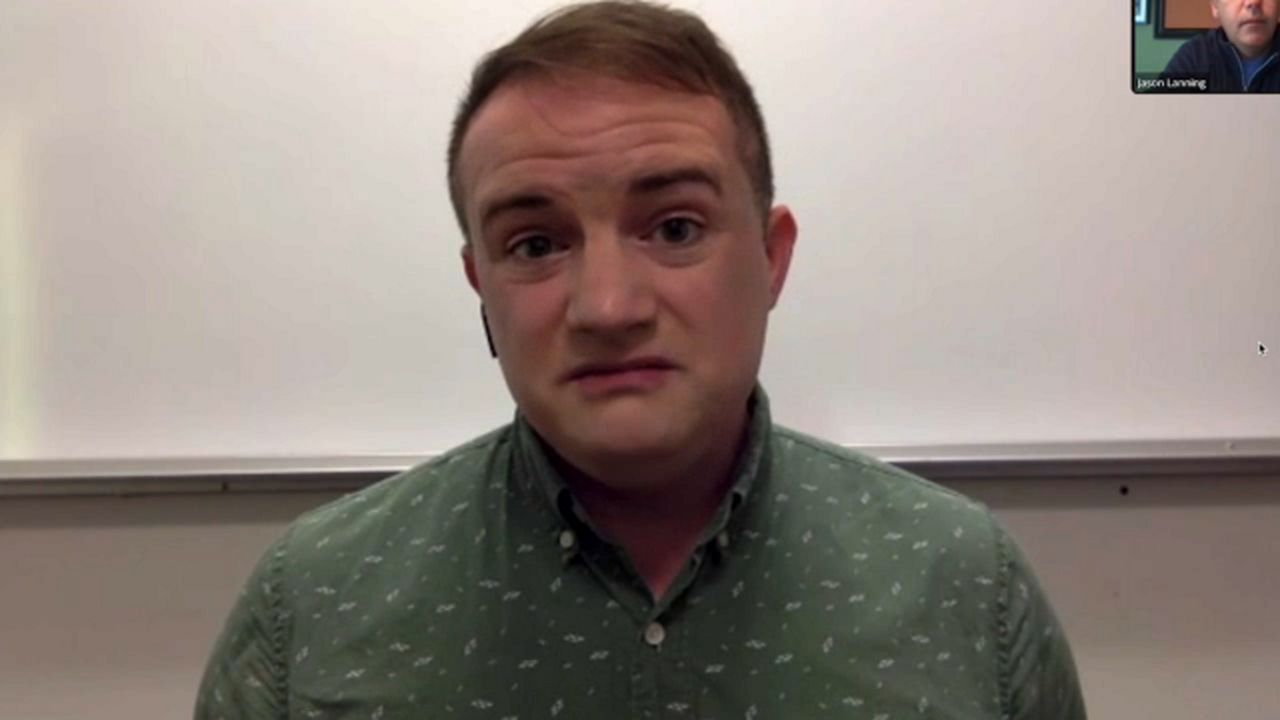 University of Tampa adjunct professor Ryan Terry said he is in line with what students are able to understand at various ages. (Spectrum News image)

He said the bill doesn't discriminate against the gay community, but rather asks for guided, age appropriate conversations.
"The bill is largely prohibiting these discussions in K-3, and in grades 4-12 you can have them but it must to be age appropriate, and that's in line with human growth and development. Because at very young ages you don't have the critical thinking skills necessary to differentiate between opinion and fact."
But not all in the gay community agree with Terry's views on the bill.
Over in Central Florida, Winter Park High School Monday as hundreds of students hoped to make their voices heard by walking out of class, many saying this bill would be harmful to LGBTQ student.
Will Larkins, president of his school's Queer Student Union and who helped organize the walkout, says they wanted to make it known that Florida students are against this bill.
"When the government is attacking people's identities, and trying to further marginalize historically oppressed groups, it is so important to make your voice heard," Larkins said.
Brandi Givargidze is working on her Master's in Clinical Mental Health Counseling at Rollins College. She believes conversations about gender identity need to be normalized in all types of settings. If not, she believes it can lead to mental health inequity.
"We're talking about a population where the children are already at a higher risk for psychological issues such as anxiety, depression, even suicidal ideation," Givargidze said. "When we're talking about is this dangerous? Is this a risk? Of course it is, because now you're just taking away one more outlet, one more environment for them to be expressive of who they are… Or even explore who they are."
But Florida Sen. Dennis Baxley, who represents parts of Lake, Sumter and Marion counties, says lawmakers have made changes to the bill's language to ensure students can talk about these issues with a school counselor.
"Highlighting the fact that this was changed in the bill, we removed the word 'discussion,' and replaced it with 'instruction.' Which means there's backup types of curriculum and everything, and the age appropriateness is part of this consideration. So we removed the term 'primary grades' and replaced it with 'Kindergarten through grade 3," Baxley, a Republican, said.
Baxley says the aim of the bill is to remove any talk of sexual orientation and gender identity from school curriculum or instruction, not from the schools outright.