Florida has often claimed the title of "Lightning Capital of the United States." According to a new annual report released by Vaisala, 2022 was no different.
Four Corners, Fla. has been designated the area with the highest number of lightning events per square mile.
---
What You Need To Know
Lightning can happen year round in Florida


Florida tops the list of states with the highest density of lightning events per square mile


Texas ranks first with the highest lightning count per state; Florida comes in second


Vaisala's annual report highlights lightning data associated with Hurricane Ian
---
Florida's unique topography being a peninsula surrounded by water makes it a favored environment for thunderstorms, especially during the summer months. Sea breeze-driven activity often sparks thunderstorms during the wet season.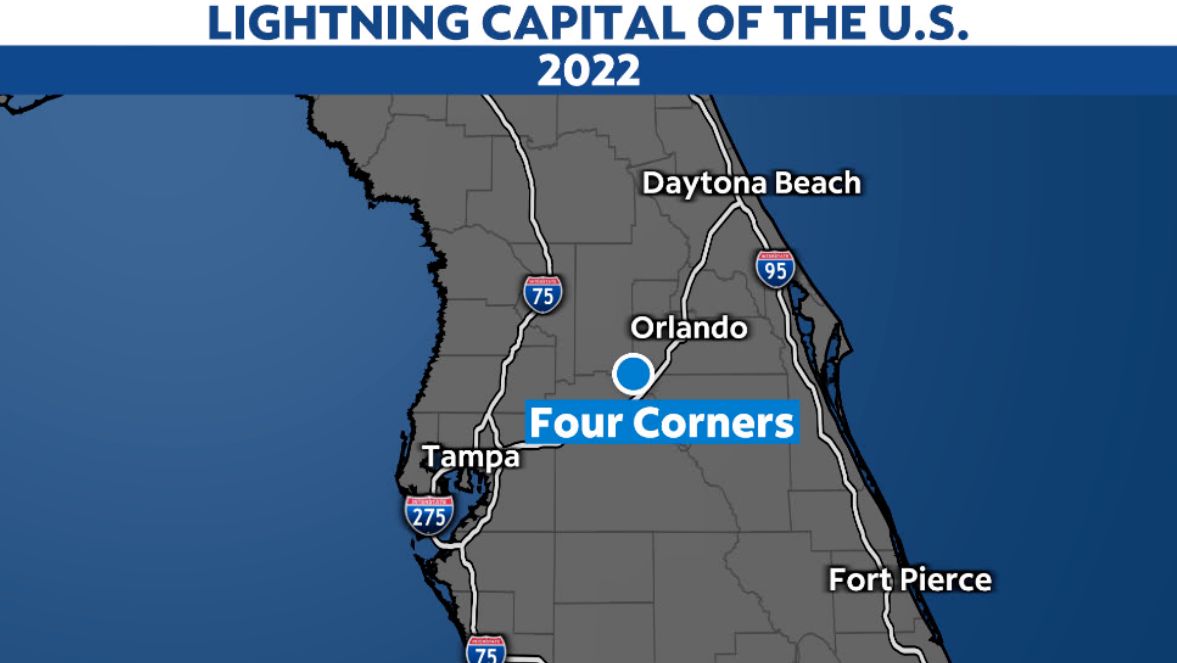 With Four Corners positioned inland at the intersection of Lake, Polk, Orange and Osceola counties, its central location makes it a prime spot for sea breeze collisions to occur. Vaisala's National Lightning Detection Network detected 474 lightning events per square mile, making Four Corners the lightning capital of Florida–and the country.
"The precise spot with the most lightning in the United States in 2022 is just 2 miles west of Animal Kingdom Lodge," tweeted Chris Vagasky, Vaisala meteorologist and Lightning Applications Manager, who compiled the 2022 findings.
Florida scored high on lists within Vaisala's 2022 Lightning Report, ranking number one in lightning density. Florida saw 285 lightning events per square mile throughout the year, more than any other state.
The country's lightning capital was also in Central Florida in 2021.
Part of the reason lightning density increased in Florida was due to the active wet season and a hurricane season with two landfalls: Ian and Nicole. Ian was especially electric with more than 34,000 lightning strikes near the storm's center, according to the Vaisala report.
"Lightning was detected every three seconds as Hurricane Ian made landfall in September, but Florida's lightning count is closely related to daily thunderstorms between early June and early September, which account for more than 75% of the year's lightning. Higher-than-normal thunderstorm activity this summer resulted in Florida seeing its highest lightning total since 2018, when 17.2 million events were detected across the state," explained Vagasky.
In the 1960s, NASA scientists learned the dangers of lightning during a launch when a bolt struck Apollo 12 as it passed through clouds on its ascent. This presented a valuable lesson that led to establishing rules that no launch attempts would happen if there was a threat of lightning in the area.
Perhaps you have noticed the tall towers that surround each launch pad, each standing over 600 feet tall. These are designed to direct any lightning toward the ground and not toward spacecraft on the pad.
According to Vaisala data, lightning struck the towers four times on April 2, 2022, followed by five strikes on Aug. 27, 2022. No damage was reported during either event.
Although Florida is currently in the dry season, winter cold fronts can present the threat of severe weather and any associated lightning. While lightning can be awe-inspiring when viewed from a safe distance, it can also be deadly if you are not being safe!
Remember that you never want to be outdoors if you hear thunder; consider the "30-30" rule. When you see lightning, start counting one thousand one, one thousand two, etc. If you hear thunder within 30 seconds, you are close enough to be struck by lightning. You also want to wait 30 minutes after the last clap of thunder before heading back outside.
Whether you live in Central Florida or are just visiting, you can track storms on the Klystron 13 radar in the Spectrum News app when you are away from the TV.
Our team of meteorologists dives deep into the science of weather and breaks down timely weather data and information. To view more weather and climate stories, check out our weather blogs section.